91 Morningside Avenue
SOLD in 6 days with 5 competing offers.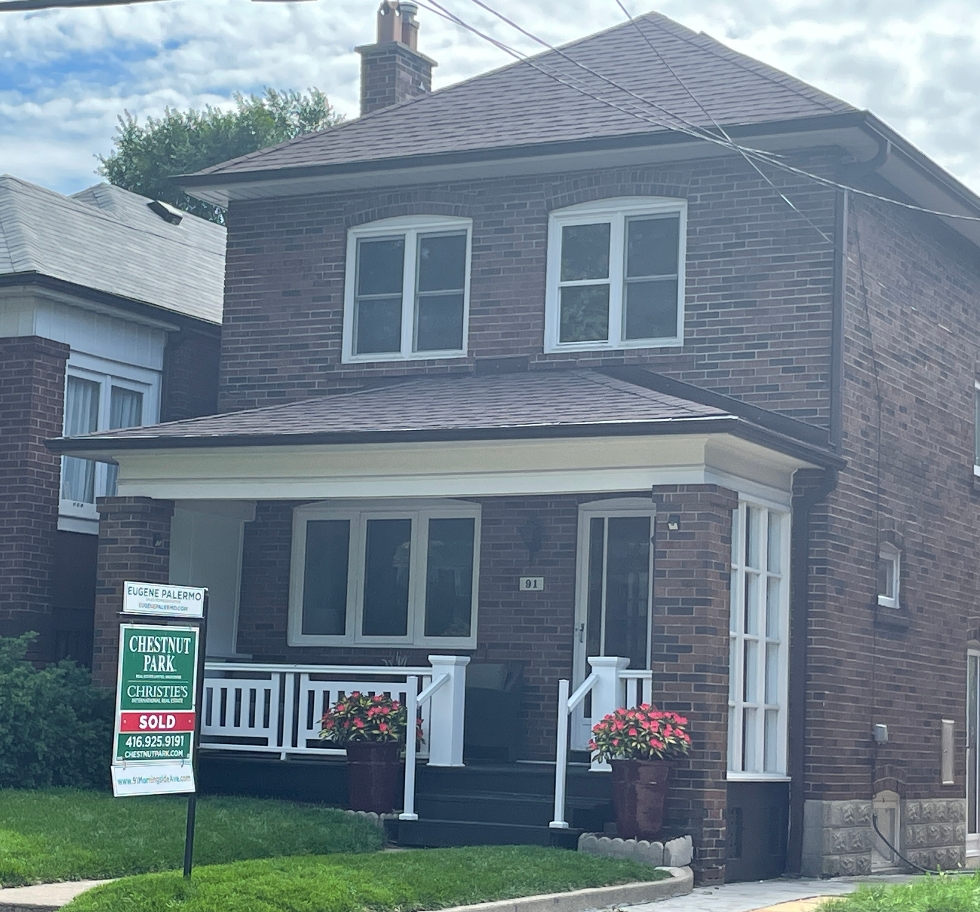 Welcome to 91 Morningside Ave
Situated in coveted Swansea Neighborhood, on Morningside Ave backing on to a ravine, this light-infused,detached home features spacious formal principal room with perfect flow and an eat-in kitchen overlooking a premium, deep backyard. This 3-bedroom, is situated on a 24.5-foot wide and, over 119.58 foot deep, ravine lot.
The home's layout makes every square inch useable for a quiet retreat, relaxation, and entertainment. With ample space all around, the deep landscaped ravine garden serves as an additional living room in the spring, summer and fall months.
On entering the home you are welcomed into the foyer that offers a coat closet. From here you can access the formal living, the hallway to the kitchen or the stairs to the 2ndfloor. The generous formal, well-proportioned living room features hardwood floors, a wood-burning fireplace French doors and a large north-facing bay window.
From the living room, through French doors you enter the home's spacious dining room that features hardwood floors, wainscoting and a south window overlooking garden and ravine.
Adjacent to the dining room there is an eat-in kitchen and a walkout to a porch and yard.
Retreat upstairs to the 2nd floor landing that offers hardwood floors and a hall closet that could easily be turned into a linen closet.
The primary bedroom features hardwood floors a closet and a large a north-facing window.
The two other bedrooms both with hardwood floors and closets have south facing windows overlooking the garden and ravine.
The basement is unfinished and has a side entrances and a 1-pc bathroom.
The front yard has newly laid sod and back garden has been beautifully landscaped and backing onto a ravine setting.
A great opportunity to own this exceptionally well-maintained 3-bedroom home, close to parks, Bloor West Village shops, restaurants & cafes, TTC 9walking distance to Runnymede subway). This home comes loaded with charm and awaits your personal touch.
There is a mutual drive and a garage that complete this home.
Metric Measurement Floor Plan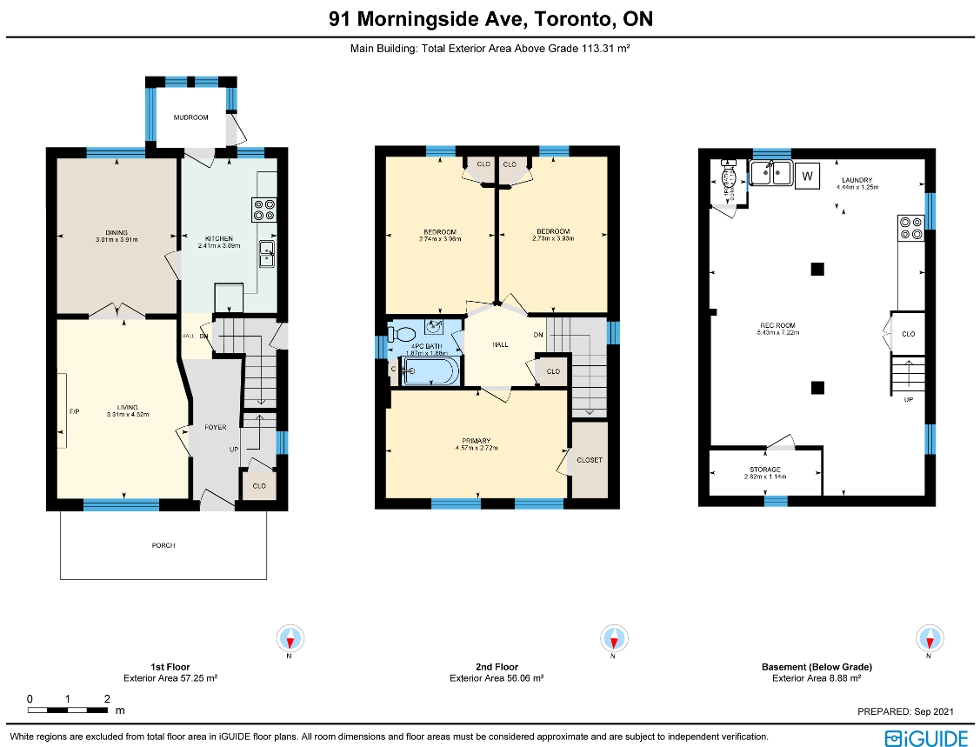 Imperial Measurement Floor Plan
Photo Gallery
Click on first photo to begin slide show.
Main Level
Living Room - 3.31 x 4.52
- Wood burning fireplace
- Hardwood Floors
- French doors to Dining room
Dining Room - 3.01 x 3.91
- Hardwood Floors
- Wainscotting
- French doors
- South window
Kitchen - 2.41 x 3.89
- Eat-in
- Walkout to porch
Sun Room
- South facing
- Laminate floor
Second Level
Primary Bedroom - 4.57 x 2.72
- Hardwood Floors
- Closet
- North facing window
2nd Bedroom (South-Facing Window) - 2.74 -x 3.96
- Hardwood Floors
- Closet
- South facing window
3rd Bedroom (South-Facing Window) - 2.73 x 3.93
- Hardwood Floors
- Closet
- South facing window
Backyard
- Single car garage
- Beautifully landscaped
- Ravine setting
INCLUSIONS
Fridge, Stove, Washer & Dryer, Electric light fixtures
Swansea Neighbourhood
History
Swansea was incorporated as a village in 1926. The Swansea Village corporate seal reveals a great deal about the colourful history of this neighbourhood. Included on the Swansea seal is explorer Etienne Brule, who in 1615 became the first European to set foot on what is now Swansea. Also shown is a First Nations member. This is symbolic in that it recognizes that First Nations members were the first people to inhabit Swansea, hundreds of years ago. The hills in the Swansea Village seal represent Swansea's rolling countryside, which is similar to the topography found in Swansea, Wales, after which this neighbourhood is named. The water in the Swansea seal refers to Swansea's natural boundaries, which include Lake Ontario, the Humber River and Grenadier Pond. In 1967, Swansea Village joined Forest Hill Village as one of the last two independent villages to be annexed by the City of Toronto.
Overview
Swansea Village is the only Toronto neighbourhood that has its own community-run Town Hall. Swansea is also the only Toronto neighbourhood to have a lake, a river, and a pond as it's natural boundaries. Swansea's hilly terrain, winding roads and many mature trees accentuate the storybook houses that line the residential streets of this neighbourhood.
Lifestyle
The most convenient shopping district for Swansea residents is the Bloor West Village shopping district on Bloor Street West. Bloor West Village features Toronto's best selection of European bakeries and delis.
Home
Swansea's high end homes are located either at the western edge of High Park overlooking Grenadier Pond, or at the Brule Gardens enclave found in the north-west pocket of Swansea. Swansea also contains a large number of semi-detached houses and bungalows located mostly in the centre of the neighbourhood. The typical Swansea house was built between 1905 and 1935. At the south end of Swansea, down Windermere Avenue, is a cluster of rental apartment buildings. This pocket includes some of the original Swansea workers cottages, built in the 1880's.
Recreation
The Swansea Town Hall and Community Centre includes a small gymnasium, and a selection of meeting rooms available for a variety of functions. Swansea Town Hall is also the home of the Swansea Memorial Public Library, the smallest branch of the Toronto Public Library system. This branch specializes in material for children and seniors and provides complete inter-library loan services. Rennie Park, located on the east side of Rennie Terrace, south of Morningside Avenue, has four tennis courts, an artificial ice rink, and a wading pool. High Park which can be accessed from Bloor Street, features a full day of recreational activities including fishing, theatre performances, train rides, an animal zoo, historical exhibits, a restaurant and a myriad of fitness opportunities.
Transportaton
Swansea is served by a bus route on Windermere and Morningside Avenues. The Runnymede and Jane subway stations on the Bloor-Danforth subway line are within walking distance of many of the houses in this neighbourhood. Motorists enjoy the convenience of being located only minutes away from the Gardiner Expressway and Lake Shore Boulevard.